Sorry all, no delicious data or analysis today. But there will be delicious!
It's Christmas time again and I've been mostly in the kitchen the past few days baking up a veritable storm. I shared my treats with you all last year – well, as much as I could, being ridiculously far away from all of you – and I thought I ought to do it again this year. Forgive the photography, these are all links to pictures I took with my phone so I could post on Twitter. (If you don't follow me on Twitter, of course, you are missing out on mostly pictures of homemade food and an adorable puppy.)
So, first, the cookies. So many cookies. I made butterscotch oatmeal again: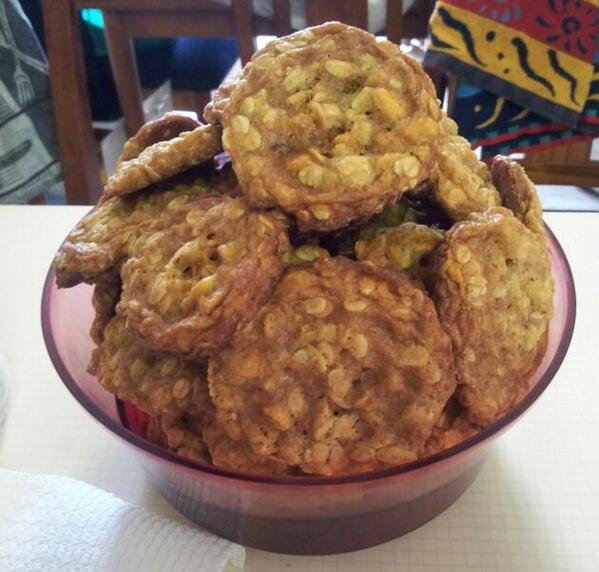 And white- and dark-chocolate cherry cookies with almond (I replaced some of the flour in the recipe with almond meal, and added almond essence instead of vanilla):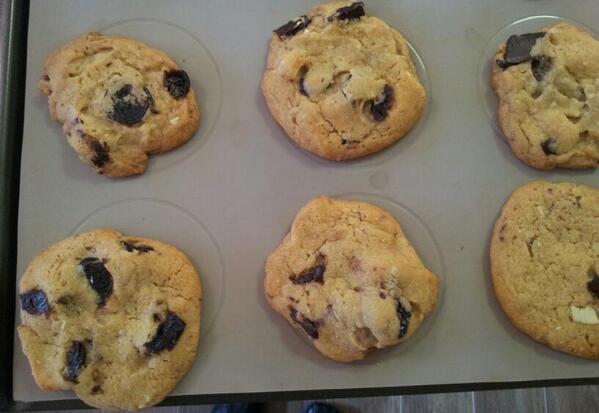 And white chocolate chip, peanut-butter-filled-milk-chocolate chunk cookies: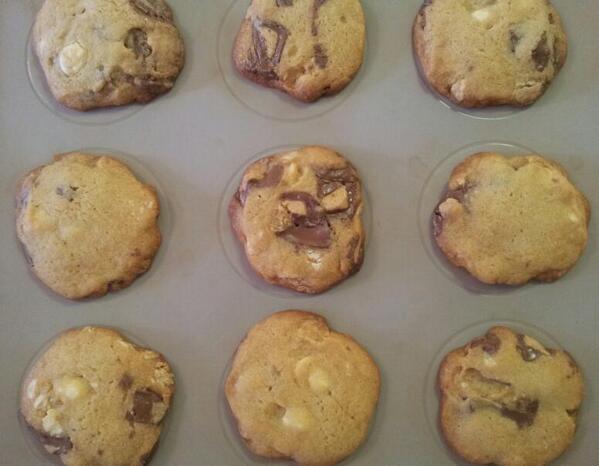 And sugar cookies. This year I tried my hand at Royal icing and I'm pretty pleased with how things turned out. Each colour of icing has a different flavour – red is raspberry, green is peppermint, and white is coconut.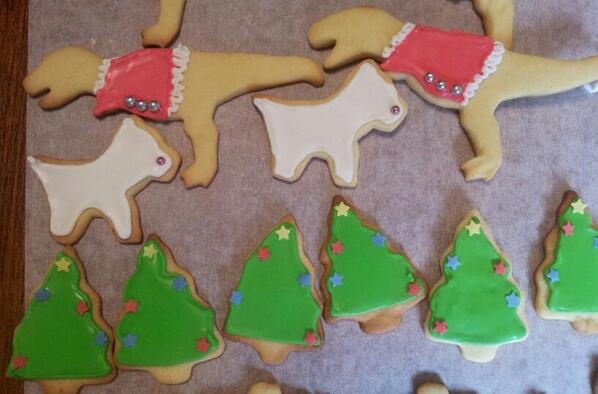 Beyond that I also made eggless chocolate cupcakes with a peppermint swirl buttercream frosting and adorable little candy cane curls: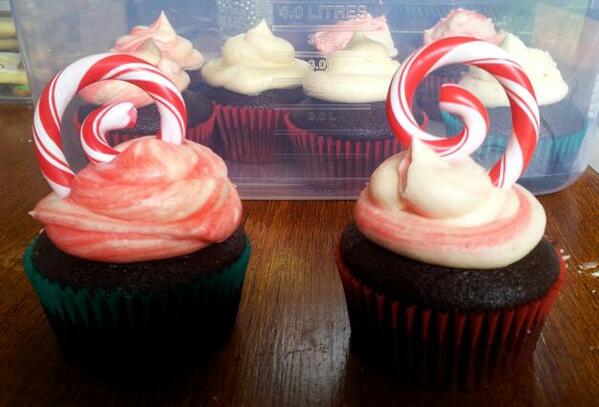 A pumpkin pie, pretty much identical to the one I made last year, down to the gingersnap cookie crumb crust (far superior to pie crust – the cookies are seriously crunchy and add a lovely textural counterpoint to the smooth pumpkin custard):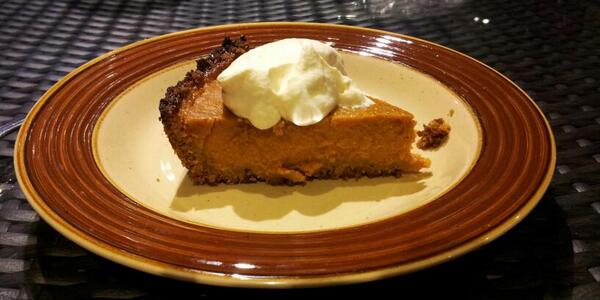 A gingerbread loaf via Derevka of HowToPriest, served with a powdered sugar and cinnamon dusting and vanilla custard – I think I didn't develop the glutens well enough here, but it was rich and gooey and delicious anyway!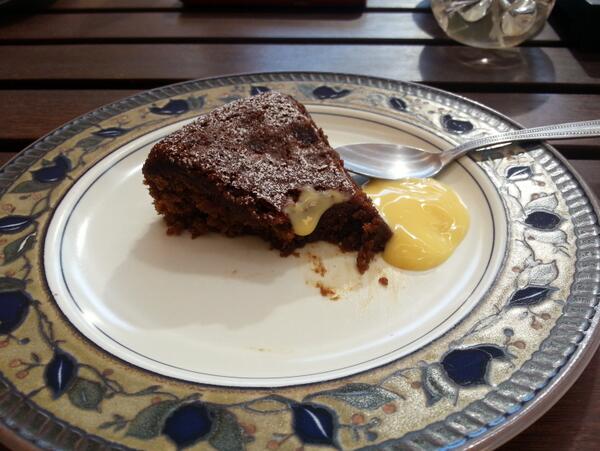 And last, but oh, most definitely not least, the cheesecakes. It's me, so of course there had to be cheesecakes. And with the cheesecakes comes a story.
My favourite family member is my maternal grandmother, who passed away 8 years ago. One memory that always resurfaces this time of year – well, there are many, of course, but one particular one, is of sitting in her lap, watching the Rankin-Bass Rudolph special, and sharing a box of delicious chocolate-covered cherry bon-bons, which were her favourite treat, and only available around Christmas time. It was special, because it was with her, and also, because she wouldn't let anyone else touch her candies!
She of course – being the typical Italian grandmother – instilled in me a love of cooking and the philosophy that food is love. Sadly, I never got to cook for her, but I think she'd be proud of the things I try these days. And because I'm a sappy, sentimental mess around the holidays, I thought I'd try to honour her memory with cheesecakes styled like the bon-bons she loved so much. So, chocolate-covered-cherry cheesecakes! The vanilla cheesecake filling is much sweeter than the dark chocolate cheesecake shell, as was the case with the bon-bons, and I found Morello cherries instead of maraschino because, well, I like fruitier cherries better. Here's the cross-section of a cooked 'cake:

And the final view, dripping with homemade brandied cherries (thickened with a bit of arrowroot so it doesn't slide off the top!):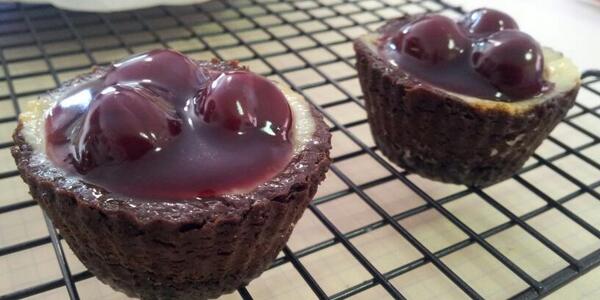 Oh, and I also made white chocolate cheesecakes with passionfruit curd on top – I guess it's, like, Australian or something. I just didn't want to make lemon ones two years in a row and I ran out of ideas 😛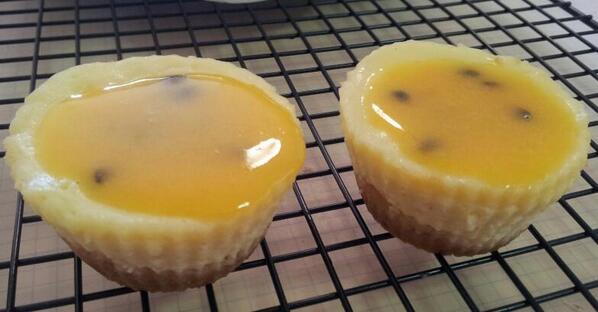 This has been a … well, a pretty good year all things considered. I hope you all can say the same. Perhaps in the new year I'll be excited and passionate about healing again and will have something to say that isn't "hey, look, food!" 😀 As always, thanks for reading – I appreciate it more than you might know – and I hope you all have a safe and awesome holiday season. ❤